Goal Setting Tips to get you to your destination. It's the mid-year point. Time to revisit your smart marketing goals. Here we reflect back on this year's goals to ensure we are employing the right behaviors and techniques to hit the number. When goals are ignored, you risk missing the mark.
Would you set off on a cross-country road trip without a map, a GPS or a clear destination in mind? If you did, you might have an interesting adventure, but there's also a good chance you might wind up somewhere you didn't want to be. This is why it's so IMPORTANT to set goals, revisit them regularly and make adjustments to ensure success. Let's get started.
What is a goal? Why is it important?
Goals act like a roadmap for your life. They help you take control and guide you along your journey so your experiences are rich, satisfying and enjoyable, and achievable. I'm a sucker for popular expressions, like this one: If you fail to plan, you plan to fail. Yet, in the trenches of small business, setting aside the time to do strategic goal planning can be hard to come by.
A Harvard Business study revealed remarkable statistics relating to goal setting and success. The study found that the 14% who have goals are 10 times more successful than those without goals. The 3% with written goals are 3 times more successful than the 14% with unwritten goals.
What gets in our way of setting goals?
To accomplish your goals, you need to know how to set them. There are a number of distractions that can occur to keep us from setting our goals and action plans. Life. Business. Fear of failure and not achieving our goals. Fear of commitment. Disorganization. The list of excuses can go on and on...If you want to be successful, you must set goals.
Here are 5 tips to help you get started on your goal plan:
#1 Set motivating goals.
Start by setting goals that motivate you. Try to imagine working on a goal that doesn't excite you very much, it doesn't sound interesting, does it? If something isn't important to you, chances are you'll give up before you achieve it. So if you are not truly excited about it, then it's probably not worth pursuing.
#2 Set SMART goals.
You have probably heard of SMART goals already. But do you always apply the rule? There are many variations. Goals should be S-M-A-R-T.
Specific. Set specific goals: Why is important for your goal to be clear and well defined? What happens if it's vague or too general? They are not helpful because they don't provide sufficient direction. Remember, you need goals to show you the way. Make it as easy as you can to get where you want to go by defining precisely where you want to end up.
Measurable. Set measurable goals. Include precise amounts, dates, and so on in your goals so you can measure your degree of success. If your goal is simply defined as "To reduce expenses" how will you know when you have been successful? In one month's time if you have a 1 percent reduction or in two years' time when you have a 10 percent reduction? Without a way to measure your success you miss out on the celebration that comes with knowing you have actually achieved something.
Attainable. Set attainable goals. Make sure that it's possible to achieve the goals you set. If you set a goal that you have no hope of achieving, you will only demoralize yourself and break down your confidence.
Relevant. Set relevant goals. Goals should be relevant to the direction you want your life and career to take. By keeping goals aligned with this, you'll develop the focus you need to get ahead and do what you want. Set widely scattered and inconsistent goals, and you'll fritter your time – and your life – away.
Time Bound. Set time-bound goals. Your goals must have a deadline. Again, this means that you know when you can celebrate success. When you are working on a deadline, your sense of urgency increases and achievement will come that much quicker.
SMART goals work best because you can evaluate your process objectively. Most people break down their goals – you can do annual goals, quarterly goals, monthly goals and weekly goals to stay on track.
#3 Put your goals into writing.
This physical act makes them tangible and real. They feel important. When you write your goals down, write "I will…" versus "I might" or "I would like to…" For example, "I will reduce my operating expenses by 10 percent this year," not "I would like to reduce my operating expenses by 10 percent this year." The first goal statement has power and intention. You can "see" yourself reducing expenses, the second lacks passion and gives you an excuse if you get sidetracked. "I WILL" rings with power and intention.
#4 Make an action plan.
This step is often missed in the process of goal setting. You get so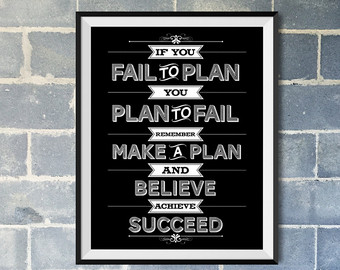 focused on the outcome that you forget to plan all the steps that are needed along the way. By writing out the behaviors and individual steps, and crossing each one off as you complete it, you'll realize the progress your making towards your ultimate goal. This is especially important if your goal is BIG and demanding, or will take a long time to accomplish.
#5 Stick with it!
Remember, goal setting is an ongoing activity. Not just a means to an end. Set reminders to keep yourself on track. And make time to renew your goals regularly.
Goal setting is much more than simply saying you want something to happen.
Unless you clearly define exactly what you want and understand why you want it the first place, your odds of success are considerably reduced. By following these Five Golden Rules of Goal Setting you can set goals with confidence and enjoy the satisfaction that comes along with knowing you achieved what you set out to do.
So, how do you get started with goal setting?
Sandler President Doug Cohen offers leaders and salespeople a radically different approach to goal planning. He suggests using January as a time to establish smart, balanced, personalized yearlong behavioral plans – they call them "cookbooks" – based on Sandler's KARE account planning system. This makes effective follow through much more likely, and much more enjoyable. Think of a cookbook as an action plan that breaks down the specific daily, weekly, and monthly behaviors that support your goals. To get started, Doug recommends focusing on:
3 business goals
2 personal goals
Next, determine what behaviors and actions steps need to take place to achieve each of these goals?
Write down why it's valuable and important to you. Ask yourself, "If I were to share my goal with others, what would I tell them to convince them it was a worthwhile goal?" Set reminders to keep yourself on track. And make time to renew your goals regularly.
Are you ready for goal setting for next quarter? Download the FREE presentation on "Goal Setting: Are you Ready?" that outlines all of the details, so you can take your action plan to the next level!